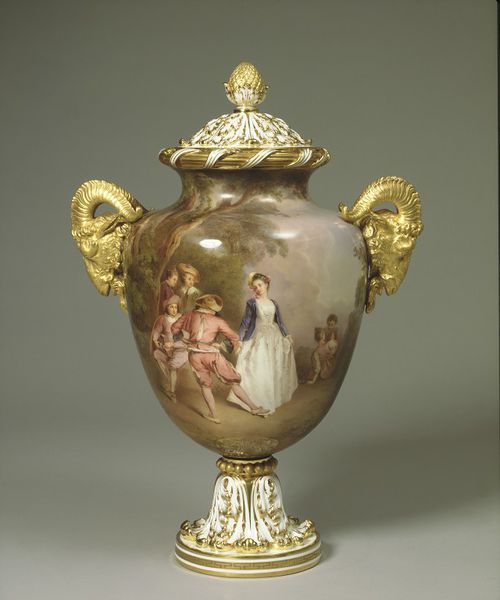 This impressive vase was made for display at the 1862 International Exhibition in London.  Minton made their largest and most impressive pieces for international fairs, to demonstrate their technical capabilities, the skill of their painters and the quality of their design. In 1863 the Museum paid an enormous sum for this vase at the time.
Ludwig (Louis) Hartmann Adalbert Jahn (1839-1911) was born in Oberweissbach and moved to Vienna before then joined Minton some time before the 1862 exhibition, where his work, including this vase, was shown for the first time. He painted to a high degree of finish, in a manner very close to the original easel painting he copied.
He left Minton to become art director at Brownfield's in 1872, and returned to succeed Léon Arnoux as art director at Minton's in 1893. In 1903 he became curator of Hanley Museum, where he remained until his death in 1911.
Source: Vase and cover | Jahn, Louis | V&A Search the Collections