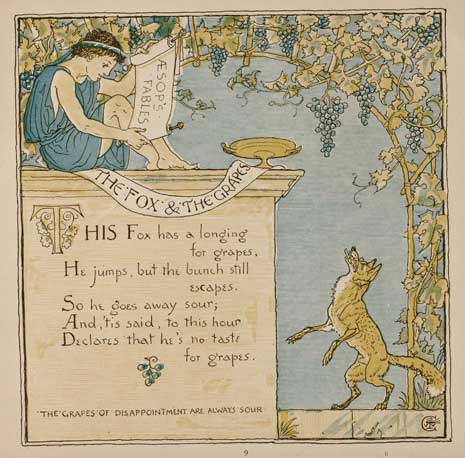 Driven by hunger, a fox tried to reach some grapes hanging high on the vine but was unable to, although he leaped with all his strength. As he went away, the fox remarked 'Oh, you aren't even ripe yet! I don't need any sour grapes.'
People who speak disparagingly of things that they cannot attain would do well to apply this story to themselves.
The Fox and the Grapes is one of the Aesop's fables. The expression "sour grapes" originated from this fable.
Cognitive dissonance is the uncomfortable tension, which comes from holding two conflicting thoughts in the mind at the same time.
Friedrich Froebel encouraged each child to persevere in doing something despite difficulty or delay in achieving success.