This building block is one of the first designs by company founder Kurt Naef (1954) and is corner stone of the Naef Company. Sixteen building blocks, with eight angled "feet", can be stacked together to form bridges, towers and much more. Build wider and taller with the more blocks you add. Very sophisticated constructions can be created and a child's creativity will be constantly stimulated and challenged.
Each piece is constructed from solid maple wood to ensure durability
• Hand inspected child safe finish
• Promotes and encourages imaginative play and creativity
Multipo designed by Kurt Naef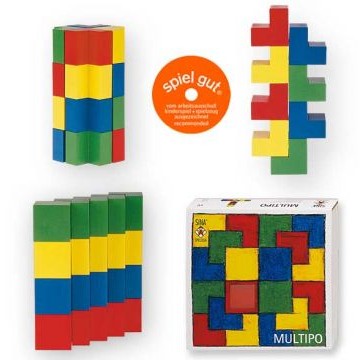 Made for our youngest architects, Multipo is very suitable for differentiating, for sorting and to learn the colours. Corner stones and cubes fit into each other and can be put next to each other in many different ways. A child can place them in line or put one on top of the other, to build a tower.
Small Construction Game designed by Kurt Naef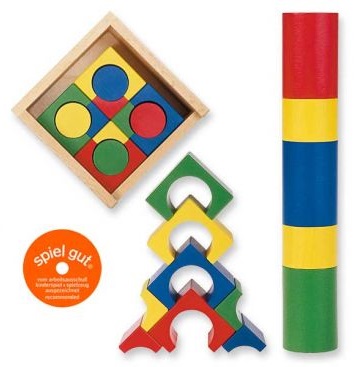 Domino designed by Kurt Naef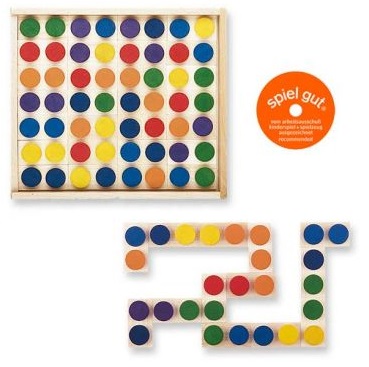 Just like the classical dominoes, this game consists of 28 double field dominoes (maple/beech wood 33 x 66 mm) and seven elements in rainbow colours. The playing rules are the same as for the classical domino, except that here colours are put together. In clear varnished hardwood box, 270 x 300 x 30 mm with sliding lid.
Klipp-Klapp designed by Kurt Naef

A game of skill for young and old. Who will get the highest number of hits? You can exercise on your own or play in a group. A hint: Use both hands to move the cubes. Have fun!