The first building gift designed by Friedrich Froebel is eight cubes. By presenting these eight blocks in the form of a cube, a child is made aware of the whole, strives to take them apart, and then reassemble them in many different ways.


The second building gift is eight blocks, twice as long and half the width.
Progressively introduce each box for a child to discover new shapes for building, creative play, active learning and design.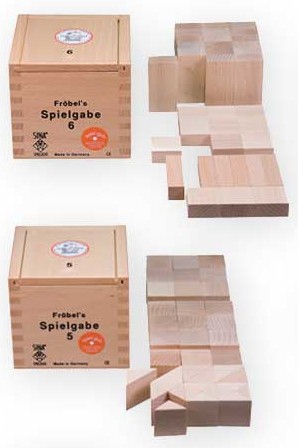 $150.00 includes free shipping worldwide
91 beechwood blocks in four boxes with sliding lids made in Germany
8 one inch cubes,
8 blocks 2 x 1 x .5 inches
21 one inch cubes, 6 half blocks, 12 quarter blocks.
18 blocks 2 x 1 x .5 inches, 12 blocks 1 x 1 x .5 inches, 6 blocks 2 x .5 x 5 inches
Buy maple cubes online with PayPal, free shipping to continental USA.

More Play Gifts designed by Friedrich Froebel