Between 1846 and 1871, Guenther Froebel and Traugott Bromme edited General emigration newspaper: A messenger between the old and the new world, which was printed at Hofbuchdruckerei Froebel, Rudolstadt.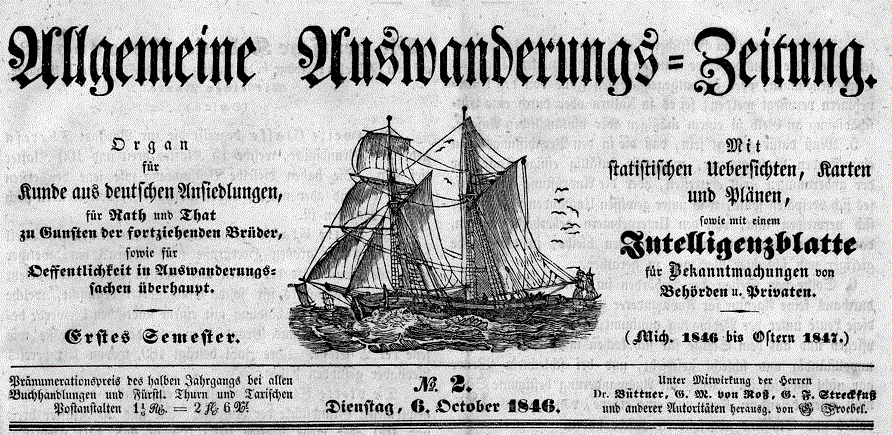 It is now available to read online and buy as paperbacks at amazon.com
This digitisation and online delivery is a collaborative project of the Thuringian University and State Library and the State Archives of Thuringia – National Archive Rudolstadt.
Die Digitalisierung und Online-Bereitstellung der "Allgemeinen Auswanderungs-Zeitung" und ihrer Beilage "Der Pilot" ist ein Gemeinschaftsprojekt der Thüringer Universitäts- und Landesbibliothek und des Landesarchivs Thüringen – Staatsarchiv Rudolstadt.
Der Rudolstädter Verleger Günther Fröbel druckte zwischen 1846 und 1871 die "Allgemeine Auswanderungs-Zeitung", die in Zeiten starker Nachfrage zeitweise dreimal wöchentlich erschien. Dieses Organ veröffentlichte neben Ratschlägen für Auswanderungswillige und Erfahrungsberichten Ausgewanderter auch Schiffslisten, die für genealogische Recherchen von hoher Bedeutung sind. Zwischen 1855 und 1864 erschien als Beilage zur "Allgemeinen Auswanderungs-Zeitung" das unterhaltsame Wochenblatt " Der Pilot" .
Literatur:
Claudia Taszus: Günther Fröbel (1811 – 1878). Hofbuchdruckereinbesitzer, Verleger und Auswanderungsagent in Rudolstadt.
Eine biographische Skizze anläßlich seines 125. Todestages. In: Blätter der Gesellschaft für Buchkultur und Geschichte, 7. Jg. 2003, S. 33-108.
Rudolf Ruhe: Die "Allgemeine Auswanderungs-Zeitung" – Ein Presseerzeugnis des 19. Jahrhunderts aus Rudolstadt.
In: Rudolstädter Heimathefte H. 3/4, 1976, S. 65-69.
Allgemeine Auswanderungs-Zeitung: ein Bote zwischen der alten und der neuen Welt . – Rudolstadt : Hofbuchdr. Fröbel, 1.1846 – 24.1870
Hauptsacht. teils: Allgem. Auswanderungs-Zeitung
Hrsg.: G. Fröbel; Tr. Bromme; verantw. Red.: G.M. von Ross u.a.
Teils auch mit durchgehender Seitenzähl .
Allgemeine Auswanderungs-Zeitung has also been uploaded in 2016 and as an ePublication. File format: ePub, PDF, Kindle, AudioBook File Name: Allgemeine Auswanderungs-zeitung: Ein Bote Zwischen Der Alten Und Der Neuen Welt. 13. Jahrgang.pdf Size: 25151 KB.