'The cocoa is too hot, I cannot drink it!', Charlotte exclaims during morning tea.
Emily, her teacher, smiles and responds 'I am not sure what to do. Do you have an idea how you could cool it down as fast as possible?'

Ben suggests: 'Why don't you stir the cocoa really fast? This always helps when I do it.'
'I have an even better idea!', Ben's friend Julia says, 'You could blow into it!'
'Well, I think these are some pretty good ideas!', Emily says, 'Charlotte, why don't we ask the other children about their ideas and we try to find out what works best?'

Learning opportunities like this arise in early childhood settings every single day. Based on the strong belief that children need to have early opportunities to discover the world, the 'Little Scientists' professional development program supports education and care services in integrating inquiry and exploration into daily activities.
'Little Scientists' strongly advocates that every child should have access to hands on discovery in Science, Technology, Engineering and Mathematics – on a daily basis.
To enable a sustainable implementation, the initiative offers a professional development workshop program for early childhood educators. During the full day workshop, teachers and educators explore various opportunities to playfully address the many exciting questions that arise within a child's experiential world.
Through hands on, practical experiments and group activities, the educators experience education on an age-appropriate level and learn how to support children in finding answers themselves. All workshops are built around using existing, everyday materials, to make experimenting and exploring at the education and care services as accessible as possible. Once completed, teachers can then – step-by-step – implement the activities with the children in their care.
The 'Little Scientists' program includes:
A long-term program of currently 9 different workshop topics.
Hands-on workshops with several rounds of practical experiments which are done with everyday materials and can easily be adjusted to the work in centres.
Having fun while exploring given materials in small groups. Participants experience the stages of surprise, asking questions, coming up with hypotheses, testing these in further experiments, documenting findings and discussing the outcomes, much like what the children will experience.
Getting to know and use the 'Little Scientists' Inquiry-Based Learning Cycle, a scientific method which helps to give structure and purpose to experimenting and lays the foundation for further investigation.
After every workshop, each participating centre receives a set of laminated cards with a wealth of ideas for experiments and scientific background information as well as a booklet with the educational content addressed in the workshop.
The holistic approach of the program not only encourages scientific exploration, but also aims at ensuring the development of basic competencies for sustained lifelong learning.
German educator Friedrich Froebel opened the world's first kindergarten in 1837. Froebel's method inspired and informed the work of Maria Montessori, Rudolf Steiner, and others, who adopted his ideas and adapted his materials according to their own work.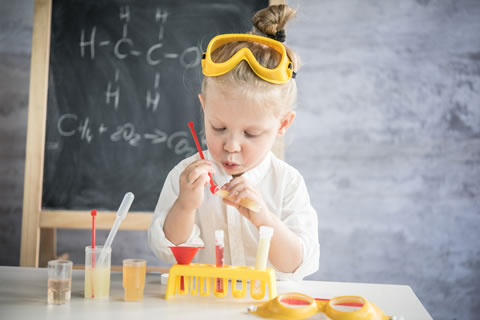 'Little Scientists' initiative – Scientific exploration for young children