Beautiful to touch.
Unusual and familiar features, symmetry and asymmetry, geometric and organic elements come together to form a new entity. Flowing lines invite touch. The grip of the handles is so comfortable – you do not want to let go.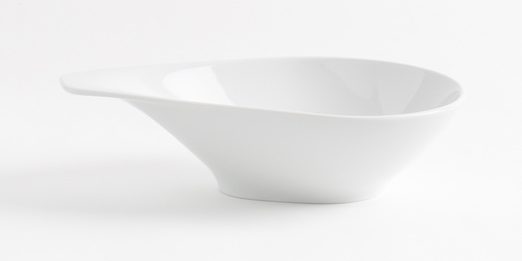 The deep and shallow ELIXYR bowls are very unusual. Their proportions are as asymmetrical as they are harmonious. The holder facilitates handling the dishes when serving and the spout pours sauces and salad dressings or is used as a resting place for the serving utensils.
Enjoy your soup, salad, pasta or dessert from this bowl – your hand will find a sure grip on the holding surface and if you like you could even eat standing up or lying down.
Designed by Barbara Schmidt, who studied design at the Burg Giebichenstein University of Art and Design in Halle and the University of Art and Design Helsinki. She has been working for KAHLA Thüringen Porzellan GmbH since 1991. She took on a leading role in the reorientation of the company. For her work she received more than 40 design awards. Since 2013, Barbara Schmidt has been Professor for Experimental Design at the Berlin Weissensee School of Art.
"For me, my work as a designer is like an imaginary dialogue: with the material, with the people involved in the realisation of my designs and with the prospective users."
Küche Award 2007 Germany
iF Design Award China 2006 Hannover, Germany
Form 2006 Federal Arts and Crafts Associations of Germany
Good Design Award 2005 Japan
reddot award 2005 Design Center Nordrhein Westfalen
Form 2005 Federal Arts and Crafts Associations of Germany
International Design Award Baden-Württemberg 2005 Design Center Stuttgart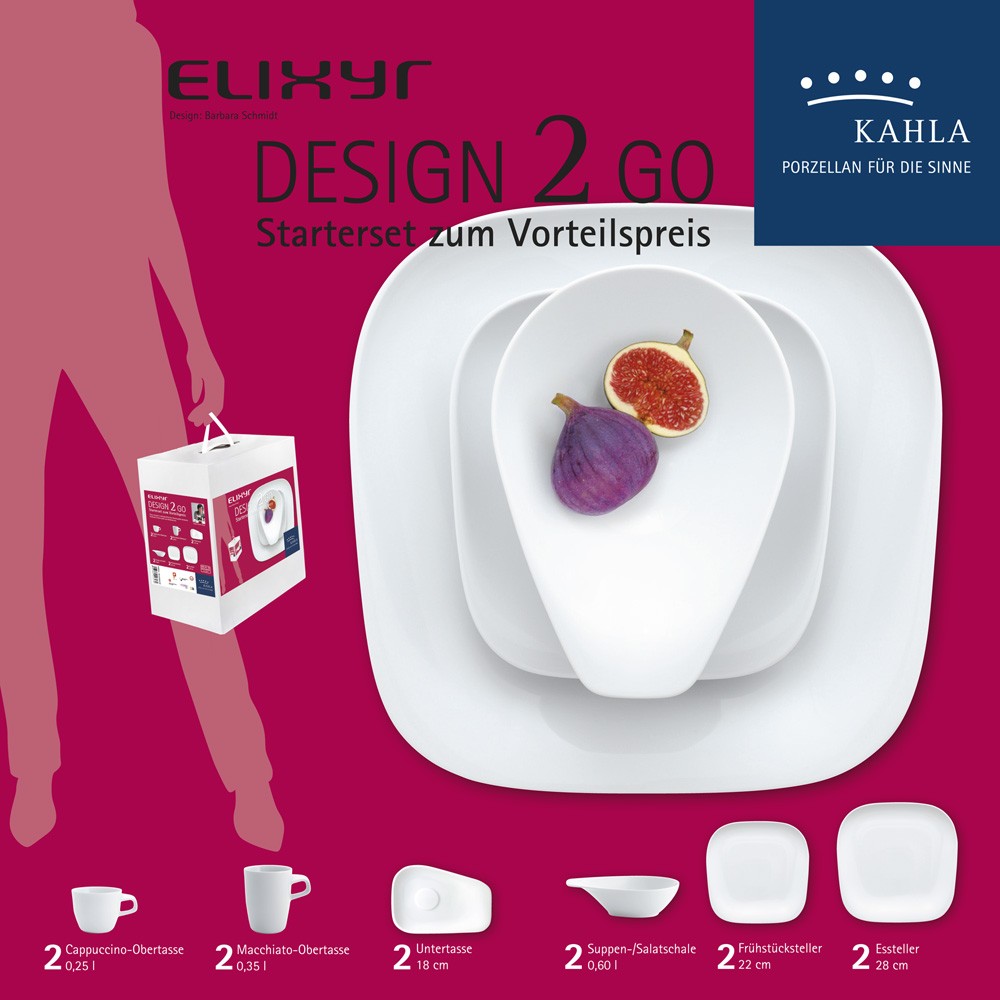 Since 1994, KAHLA Thüringen Porzellan GmbH has developed to become one of the most modern and innovative porcelain manufacturers in Europe. High performance kilns, isostatic presses, pressure casting machines for cups and time and energy saving processes contribute to KAHLA being able to offer the highest quality, the most innovative products and an outstanding design as well as value for money.
With the KAHLA pro Eco strategy, the company demonstrates a clear commitment to sustainability. A green quality seal vouches for porcelain made from natural resources and tested for harmful substances. It is made in Germany – fair and socially responsible.
Since its re-formation after the reunification, KAHLA invested around 30 million Euros in innovative production technologies to protect the environment, thus ensuring a way of production that conserves resources and reduces CO2 emissions. As part of the KAHLA pro Eco strategy, the company uses its own wells and conserves millions of litres of drinking water by treating industrial water. The company's own photovoltaic system generates green electricity from solar power, which is used for the production of porcelain. All production steps are carried out in Kahla, Thuringia, thus eliminating unnecessary transport and avoiding any associated emissions.